Stokke® Nomi® - a modern long lasting chair
The Stokke® Nomi® is a modern and stylish highchair that supports independent, ergonomic and comfortable sitting for your child​. This fantastic chair features multi-adjustable construction that make it a perfect long lasting solution for fast growing children. Its solid and uniquely curved wooden stem with large stand provide ideal balance and stability under user's weight. The seat, backrest and and footrest of Nomi® Chair are shaped in a special manner which prevent the child from sliding down.
---
Yet another fantastic design by Peter Opsvik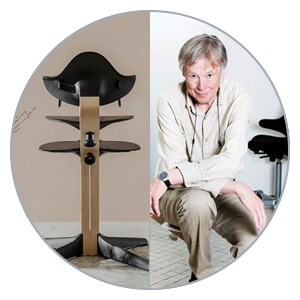 The Stokke® Nomi® Chair is a result of work of famous Norwegian designer - Peter Opsvik, who is more known as the creator of Tripp Trapp®. The Nomi® Chair is created from the same philosophy that children need a stable platform which offers many different positions, so the child will sit actively and varied at all times. The other thought of the Nomi® project was love and respect for the surrounding world, so the chair is made of durable and responsibly sourced components.
---
The chair lasting for life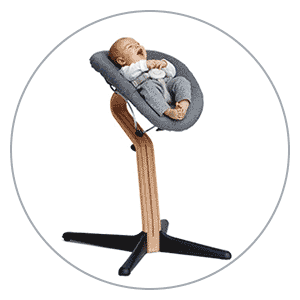 The Stokke® Nomi® Chair is designed for use throughout your child's life starting from birth with the specially designed Newborn Set (sold separately). This useful accessory features seamlessly recline positions and is suitable up to approx. 6 months. After that time, the Nomi® can be transformed to a feeding highchair with other optional accessories including Baby Set, Tray, Cushion and Safety Harness , which can be used up to 36 months. In addition, the Nomi® stand is equipped with anti-tilt wheel, which makes the Nomi® Chair a comfy and ergonomic solution for seat at the office desk too! The chair can hold up to 150kg/320lbs of maximum user weight!
---
Lightweight and easy to move
The Stokke® Nomi® Chair is super lightweight, so it can be easily lifted up for cleaning the floor under it or will even hang on the edge of the table top. The addition of the wheels allows it to be easily moved from the one place to another as well.
---
Array of colour choices match your home décor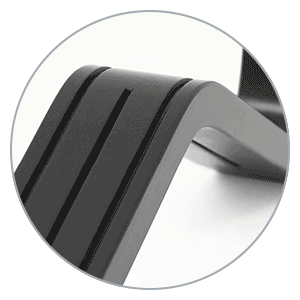 The Stokke® Nomi® Chair comes in a a multiple variations, beginning from the stems which were made of different types of wood that grow in central Europe. You can choose between standard oak/beech combination or premium oak or walnut wood veneers that offers even more exceptional look. In addition, the Nomi® stand is finished with a high quality coating, providing a smooth, resistant surface; reducing scratches and making it super easy to clean and care. Once you choose your stem, now you can specify the colour of the stand and seat unit elements.
---
Easy assembly and tool free adjustability
The Stokke® Nomi® Chair is very easy to build up as it comes in just a few parts, that are designed to be put together by the included Allen keys, so you do not need any other tools. The Nomi® Chair includes wooden stem, seat plate, backrest, foot plate, footcross bars and screw bag. Once the Stokke® Nomi® Chair is assembled, it can be simply adjusted for your child via convenient knobs.
All features:
Long lasting usage from birth up to 150 kg of child's weight
Suitable from birth up to 6 months with Newborn Set (sold separately)
Suitable from 6 - 36 months with Baby Set (sold separately)
Stylish and modern design by iconic Norwegian designer - Peter Opsvik
Lightweight construction - can be hang on your table edge for clean-up after meals
Made of solid sustainably sourced durable and strength beech wood stem
Tool-free adjustable seat plate and footrest
Comfortable and ergonomically shaped backrest
Wide stand with anti-tip wheels for stability and easy moving
Grows with the child
Brings baby to your family table
Promotes active seating
Available in a wide array of colour choices
Wide range of optional accessories
 INCLUDES NOMI CHAIR ONLY 
Specification:
Product weight in kg/lbs: 4.68 / 10.3
Product dimensions in cm: L59 x W52 x H83.5
Product dimensions in inches: L23.2 x W20.5 x H32.9
Maximum user weigh tin kg/lbs: 150/330
Materials used:

Center stem: Oak/Beech veneer
Backrest, seat, footrest and footcross: Polypropylene with metal parts
Screw bag: Metal