The Silver Cross Dune is the ideal urban travel solution for families on the go - boasting a clean and eco-conscious design with practicality in mind and ensuring you hit the streets in style.
This package includes Chassis, Seat Unit, Hood, Sun Sail, Spacious Shopping Basket, Bumper Bar and Raincover.
Suitable from Birth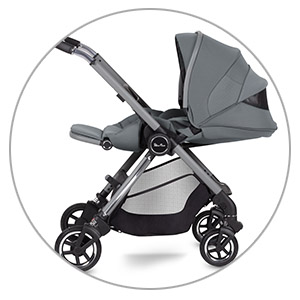 The seat unit reclines fully to the lie-flat position, ensuring it is suitable straight from birth, and can be switched easily between parent and forward-facing positions. Additionally, the Dune is compatible with the Compact Folding Carrycot, the First Bed Folding Carrycot and Newborn Pod (sold separately) to provide the ideal space for your newborn.
Genius™ Harness System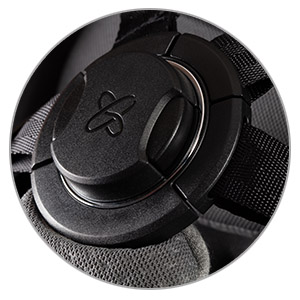 The state-of-the-art Genius™ Harness System allows you to adjust effortlessly in only one movement and boasts an up-to-date magnetic buckle so that you can get your child in and out of the pushchair with ease. The magnetic fastenings connect in three easy clicks and the buckle opens by pinching the child-proof release to quickly let your child out.
Perfect for Busy Families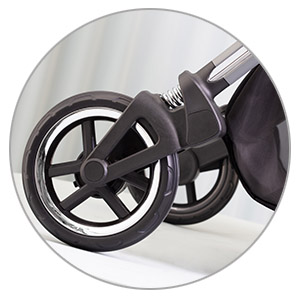 The impressive suspension ensures the Dune can handle those bustling city streets and tight spaces with ease. The telescopic, cushioned handle is made with vegan leather for that comfortable push and the shopping basket offers a spacious 5kg capacity for convenience on those shopping trips.
Eco-conscious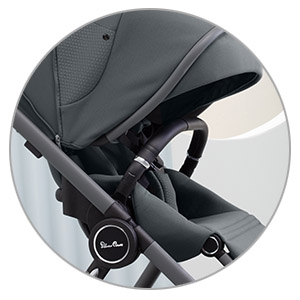 Across the globe, approximately 1 million plastic bottles are thrown away every minute so Silver Cross has designed the Dune with utilising these in mind. The exterior fabrics have been woven with yarn from recycled plastic bottles, meaning the Dune is both environmentally friendly and stylish.
On the Move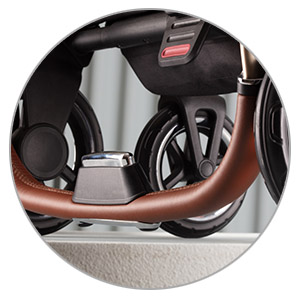 The Dune folds away quickly and effortlessly with just one hand and free stands, keeping your hands clean as the vegan leatherette handle never touches the floor. Simply tap the catch and the Dune will be ready for use again in just seconds.
Silver Cross Dune Features:

Suitable from birth to 22kg (4 years approx.)
Reversible seat unit with parent and forward facing positions
Lie-flat seat recline
Genius™ Harness System with magnetic buckle
Reinforced suspension for those city streets and tight spaces
Telescopic handle
Environmental design - exterior fabrics woven with yarn from recycled plastic bottles
Cushioned vegan leatherette handle never touches the floor when folded
One-hand, freestanding fold
Large shopping basket with 5kg capacity
UPF50+ Sun Sail easily attaches to the hood to provide shade and sun protection
Add the optional Dream i-Size Car Seat with the Adaptors (sold separately)
Silver Cross Dune Specifications:
Dune Dimensions Open: L :76.5cm x W: 58.5cm x H: 92.5-108cm
Dune Dimensions Folded: L: 68.5cm x W: 58.5cm x H: 29cm
Dune Dimensions Folded chassis and seat folded together: L: 68.5cm x W: 58.5cm x H: 37cm
Length of backrest: 57cm
Width of seat: 33cm
Depth of seat pad: 27cm
Height of seat pad: 55cm
Calf support length: 15cm
Lie flat length with calf rest fully extended: 87cm
Basket dimensions: L: 43 x W: 45 x H: 24cm
Basket capacity: 48L
Dune Chassis Weight: 7kg
Dune Seat Weight: 4.5kg